Data Differentiators: Deeper Insights with Psychometric Scales

Matthew Valko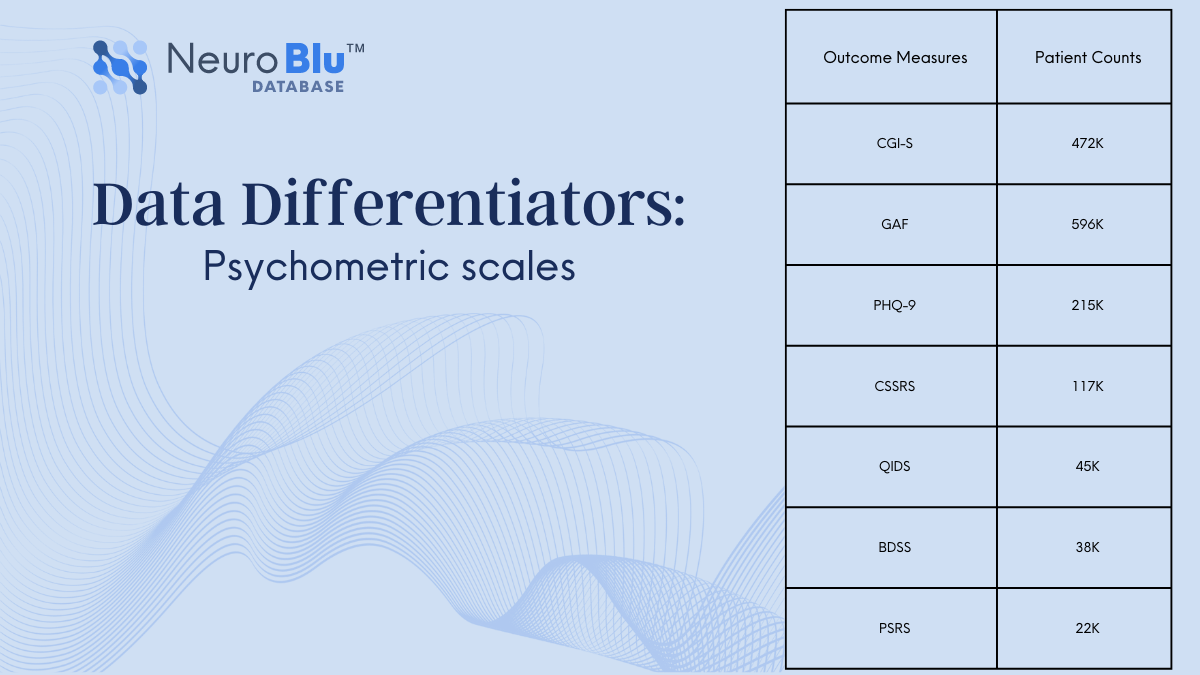 This blog post is a continuation of our Data Differentiators series, in which we're sharing how the NeuroBlu Database stands out from other EHR-derived real-world data sources. For previous installments of the series, see here.
Typically, EHR-derived real-world data gives researchers information about a patient's diagnosis and treatments, but little insight into other considerations that are especially important for behavioral health, such as disease severity and psychiatric outcomes. The NeuroBlu Database is different because it includes a wide range of psychometric scales that help give researchers a comprehensive picture of the patient's condition.
CGI-S: Severity measure enables robust research
The NeuroBlu Database was built upon the foundation of MindLinc, a psychiatry-specific database in which most patient records contain measures for the Clinical Global Impressions Scale (CGI-S), a scale used to measure disease severity.
CGI-S is important because it facilitates seamless comparison across different cohorts of patients, helping researchers to better understand how different factors impact disease severity. For example, we recently explored the association between executive functioning and illness severity in patients with ADHD and found that patients with deficits in executive functioning were likely to have higher CGI-S scores—or worse illness severity.
Another benefit of the NeuroBlu Database is that CGI-S measures are collected frequently, often across multiple clinical visits for each patient, which enables researchers to track changes over time and conduct longitudinal research.
As the NeuroBlu Database continues to grow, our team has ensured that the strong tradition of collecting CGI-S continues, and we have also added many more measures over time as we continue to partner with academic medical institutions and other entities.
The right scale for your research
In addition to CGI-S, the NeuroBlu Database includes over eight different scales that measure things like functioning, disease severity, and psychiatric outcomes. These measures add important context to help answer your research questions with better specificity and granularity.
No matter which behavioral health condition your research is investigating, you'll be able to find a scale to help, from the Quick Inventory of Depressive Symptomatology (QIDS) to the Brief Bipolar Disorder Symptom Scale (BDSS).
Standardized collection presents challenges
Although psychometric scales add value to research, there are also challenges associated with relying on these scales to answer behavioral health questions. One of the largest setbacks is that these measures are often not collected in a standardized or consistent way across different clinics and centers. These missing data make it difficult to compare cohorts of patients.
Our solution
At Holmusk, we are addressing this challenge by developing a common severity index, which can be estimated for each patient based on their other available data.
This common severity index will allow for standardization across all of the centers that are included within the NeuroBlu Database, equipping users with a common measure across all patients for more impactful behavioral health research.
Curious how our common severity index could help your research program? Explore your options by speaking to a NeuroBlu Database representative.